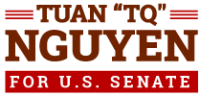 Candidate: Tuan ''TQ'' Nguyen
Website: https://letsbe-american.com/
Position Sought: US Senate

For more than a decade, America has become increasingly polarized and divisive to the extent that partisan spirit has dominated and affected our daily lives as Americans and resulted in gridlocks in Washington and hence an ineffective Congress.
The absence of the voice of independent voters in Florida, who have been sidelined in primary elections.
The increasing assertiveness of authoritarian regimes has posed a threat to America's democracy and its liberal world order, which has guaranteed global stability and development since World War Two.
These three reasons compel Tuan TQ Nguyen to run for U.S. Senate.
Political advertisement paid for and approved by the candidate.