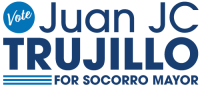 Candidate: Juan JC Trujillo
Website: https://jctrujilloforsocorro.com/
Position Sought: Mayor of Socorro, NM
Election Date: November 7, 2023

"It is time for a new generation of ideas and innovation," said Trujillo. "We need a community that is safe and fun for our children, as well as a place that older adults can affordably live. I am a true leader and entrepreneur that, not only knows what it is going to take to grow our economy but has the vision and ability to address the many issues facing our community today."
Trujillo is running for mayor of Socorro, New Mexico. Trujillo was born and raised in Socorro, graduating from Socorro High in 2003. He holds a Bachelors in Criminal Justice and has served on the Socorro School Board and as Chair for the Democratic Party of Socorro County.
Trujillo adds, "To grow our economy, we must build a strong workforce. To do this, we must have easy access to job readiness training. The city must have a division for Development and Innovation, who's role it will be to focus economic development and recruitment. We will also need to address one of the biggest issues facing today."
The election will be held on November 7, 2023.
More information about Juan JC Trujillo and his campaign can be found on his website, jctrujilloforsocorro.com. The site includes biographical information about Trujillo as well as his positions on many of the important issues affecting Socorro.